EMFACE
No Needles. Less Fat. More Lift.
Emface is a cutting-edge, non-invasive facial rejuvenation and contouring solution that utilizes groundbreaking technology to transform your appearance. Much like Emsculpt NEO's approach to body contouring, Emface revolutionizes the field of facial aesthetics. It harnesses the power of high-intensity electromagnetic (HIFEM) energy and advanced radiofrequency technology to target specific facial areas, providing a rejuvenating and sculpting effect.

By directing HIFEM energy and radiofrequency energy towards the targeted areas of the face, Emface achieves remarkable results. The combination of these energies heats the underlying fat cells, prompting the water within them to evaporate and subsequently shrink. This innovative process results in the reduction of unsightly skin bulges and the enhancement of facial contours, allowing you to reveal a more youthful, refined, and radiant appearance.

What truly sets Emface apart from traditional facial treatments is its unique ability to simultaneously address fat reduction and muscle toning. This dual-action approach ensures that you not only achieve a more youthful facial profile but also experience improved muscle tone and definition, enhancing your overall facial aesthetics.

Just like Emsculpt NEO is celebrated by celebrities for its ability to help them look their best without extreme measures, Emface has gained a reputation for its transformative effects on facial appearance. With Emface as part of your skincare routine, you can achieve your facial rejuvenation goals without the need for invasive procedures or lengthy recovery times. Emface empowers you to embrace a more confident, radiant you while maintaining a healthy lifestyle.

With Emface as your ally, achieving your facial beauty goals has never been easier. Embrace this advanced technology, and you'll be well on your way to a refreshed, youthful, and sculpted facial appearance that will leave you feeling ready to face the world with confidence.
Book FREE Consultation
NEW PATIENT SPECIAL
Save $500
For a limited time, receive $500 OFF Emface treatment plan when you schedule a FREE consultation!
Book FREE Consultation
REAL PEOPLE. REAL RESULTS.
Before & Afters
Achieving your desired facial aesthetics can present a considerable challenge, even with a dedicated skincare routine and meticulous makeup application. Obtaining a youthful, radiant complexion or refined facial contours can be demanding, especially when factoring in genetics, aging, and the daily effort put into maintaining your facial appearance.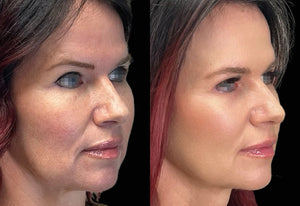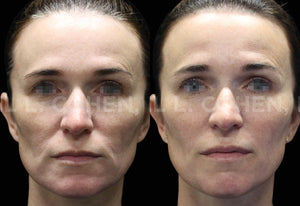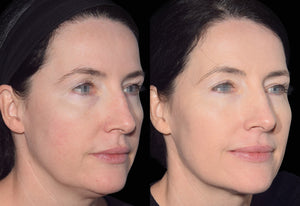 Fan favorite
Why We Love Emface
✓ Enhance facial muscle tone and definition
✓ FDA-cleared for safety and effectiveness
✓ Clinically proven to rejuvenate your appearance
✓ Comprehensive facial contouring and revitalization
✓ Decreases unwanted facial fat by 30%
✓ Increases facial muscle tone by 25%
✓ Achieve long-lasting facial rejuvenation
✓ Painless, convenient 30-minute sessions
✓ No downtime needed for a refreshed look
Frequently Asked Questions
Emface is an innovative non-invasive facial rejuvenation system that utilizes high-intensity electromagnetic (HIFEM) energy and advanced radiofrequency technology to enhance facial muscle tone, reduce fat, and contour the face. It offers a safe and effective way to achieve a more youthful and sculpted facial appearance without surgery or downtime.
Emface operates by harnessing the power of high-intensity electromagnetic (HIFEM) energy and advanced radiofrequency technology. During a session, these energies are precisely directed to targeted areas of the face. HIFEM triggers powerful muscle contractions, strengthening and toning facial muscles. Simultaneously, the radiofrequency energy heats and reduces fat cells, aiding in the reduction of unwanted fat deposits and enhancing facial contours. This combined approach not only revitalizes the face but also provides a sculpted, youthful appearance without surgery or extensive recovery time.
Emface can treat:
✓ Forehead
✓ Brows
✓ Jawline
✓ Cheeks
✓ Neck
Emface is a non-surgical and non-invasive procedure, which means there is no downtime and minimal discomfort compared to traditional surgical methods like facelifts.
We recommend a consultation so we can assess your needs and give you an accurate estimate.
Newport Beach's Best Med Spa
Why Instant Rejuvenate?
Instant Rejuvenate Wellness & Anti-Aging Clinic is a comprehensive and regenerative medical spa under the expert guidance of Dr. Paris Sabo, a renowned cosmetic surgeon and integrative medicine specialist. Utilizing state-of-the-art technologies and advanced treatments, we are dedicated to enhancing the appearance and well-being of our patients. Our wide range of services include: weight management, body sculpting, non-invasive facelifts, hair restoration, biohacking, and hormone replacement therapy, all designed to help you achieve your best self.
Why our med spa is the best in Orange County
Real Reviews

"
Loving my experience so far! Professional, so kind, helpful— Wendy and Ashley make you feel so at ease. Strongly recommend!
"
"
Strongly recommend Instant RejuvenateI Ashley, Wendy & Dr. Sabo are all so wonderful and knowledgeable. They've been so supportive and I'm very pleased with my results thus far. Highly recommend Instant Rejuvenate and can't say enough good things!
"

"
Best medspa in the world!
Ashley and Wendy are my absolute favorites! I'm so happy with my current results and thankful for all the help. Strongly recommend instant rejuvenate!
"